KIS Welcomes Rosall http://www.youtube.com/watch?v=fAWsRBM8zOk
Unlike Donavan's serendipitous purchase, the purchase of Rosall was totally planned and carefully executed.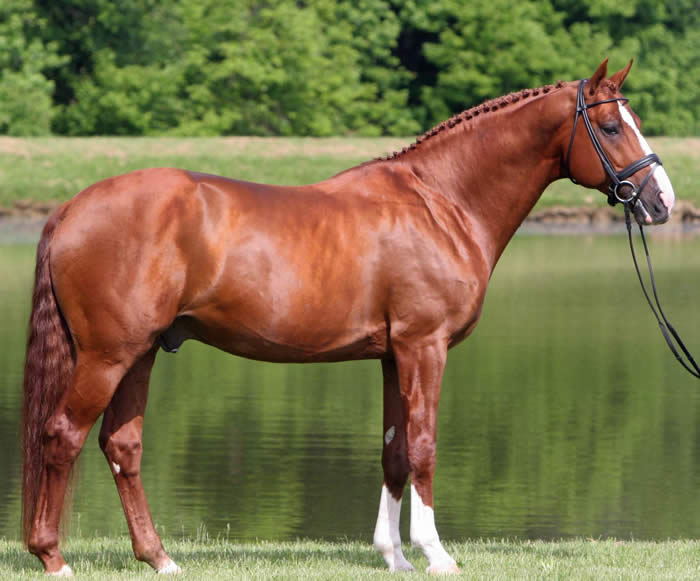 Wendy and Marty Costello wished to help their Trainer of many years, JJ Tate to reach her Olympic dream and she wanted them to promote and manage the stallion she would find. So JJ set out to find the horse with the talent. Once she found Rosall, Wendy went to Germany to meet the "man", and determine if he also had a character and temperament to complement the wonderful demeanor of the Donavan mares and to enhance other mares that would be bred to him. Love at first sight.. .again. So, after winning his 30 Day test, he then made the trip across the ocean to MD.
* Rosall began training and schooling in Jumpers and hunters at age 12.. seeming to enjoy this discipline.. after discovery of an airway problem which in full collection was a problem.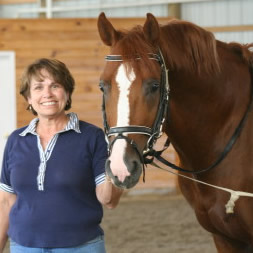 Rosall's Family
Rosario
By Rubenstein I (Westphalian)- Castro (Holsteiner) - Luxus (Han), Oldenburg Stallion
Black, born 1999, 170cm, 17H; Approved GOV, Hanover, Westphalian
Rosario has it all! Genius movement together with a natural ability to collect and convincing rideability values make this black stallion a very interesting prospect for demanding dressage breeders. Rosario has won the Oldenburger County Championship three times in a row, finished third in the final qualification at the Young Horse World Championships behind Florencio and Lord Loxley and has now successfully established himself at S Level Dressage. Successful Oldenburger dam lineage with numerous S-horses in both disciplines and approved stallions — his jet black dam Elfenlicht, by champion stallion Castro is a state premium mare as is his grand dam Elfchen III.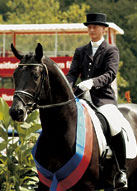 There are already some approved stallions from Rosario's first crop of foals, such as Rhaposario who received 9.0 for his walk and trot at his stallion test, as well as numerous offspring successful in the riding horse classes. Another approved son, Rosandro out of a Sandro Hit mare left a lasting impression at the 2006 Oldenburger Approvals with his impressive appearance and top quality movements. His son Royal Mirage, out of a Silvio mare is a fabulous mover and was sold at the 2006 PSI auction in Ankum for € 320,000. This beautiful dark black stallion has a spectacular way of going in all three gaits. His natural elasticity and strong movement from behind is obvious and earned him the status of Pramienhengst at his Oldenburger approval.
From his legendary sire, Rubinstein, he inherited his riding qualities of willingness to work and dressage ability. His dam, Elfenlicht is by the gorgeous Holsteiner stallion Castro. Castro was by Calypso, who became an outstanding sire of competition horses for all disciplines in Holstein. Not only was Castro the winner of the stallion approvals of his year, but also he did an exceptional Performance Test, finishing fourth overall with almost 130 points and was the best Holstein stallion. He was judged with 9.33 for both his jumping ability and his cross country work.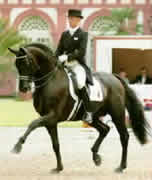 Rubinstein
Rubinstein is known as a great improver for the breed. He consistently passes on his wonderful temperament and movement. The youngstock of Rubinstein are very popular with riders professional and amateur for their willingness to please.
Freiherr
Freiherr (approved: Old, Hann., Westfalia)
Sire: Furioso II by Furioso I out of Dam de Ranv
Dam: Almentanne (Hann.)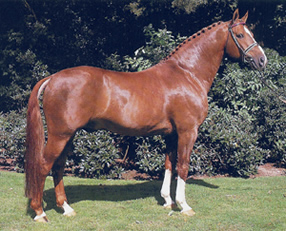 Born 1976, chestnut, 16.2 hands, breeder: Josef Wernke.
Approved: Oldenburg, Hannoverian, Westfalia. Freiherr is regarded as one of the most influential sons of Furioso II, the Selle Français stallion imported to Oldenburg in 1968 by Georg Vorwerk. Freiherr's dam Almentanne, produced two other approved stallions, the full brothers Fürst Agram and Furi Agram. Her sire, Agram produced the international showjumpers Anakonda, Abadir and Agent (who competed at the 1976 Olympics with Paul Schockemöhle, and went on to win DM130,000). Freiherr won the Oldenburg Stallion licensing in 1978, the next year he won the Performance Test, and in 1980, he was crowned main premium winner on the basis of his first crop of foals. He has a number of outstanding offspring, including: Weltwunder (champion mare of her age group at Aachen in 1986 and the dam of Donnerschwee), the mare Love Story, a DLG winner, his champion stallion son, Feiner Stern, and the dressage star, Flashdancer, ridden into sixth place at the WEG in 1994 by the Irish competitor, Anna Merveldt-Steffens. Love Story crossed with Akzent II — St. Pr. St Liberty, Rosall's Dam.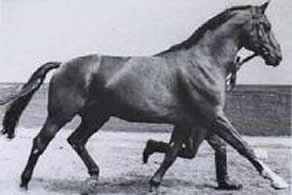 Absatz
16H; chestnut Hanoverian Stallion. Koerung/approval: 1962 in Verden/Aller.
He did not go through the stallion test due to illness. Absatz endowed his foals with light, free action, superb conformation and an unparalleled disposition, which made them extremely easy to train. His sire Abglanz was the founder of new bloodlines.
Abglanz
Abglanz; Termit/Abendluft (Poiseidon); 1942 - 1964;16.1; chestnut; Trakehner Stallion.
Represents one of the "new" modern bloodlines. His infusion of Trakehner lightness and 'blood' can be clearly seen in today's modern Hanoverian horse and is credited with bringing about great improvement in the head and neck of the Hanoverian horses.


Foundation Stallion of All Breeds
The chestnut Abglanz did his name honour. As regards the transmission of type, he was able to predominate against every other bloodline. He derives from a famous dynasty. His dam Abendluft was the full-sister of the renown hereditary transmitters Absinth, Absalon and Abendstern. In 1946 Abglanz was first stationed at a covering station of the Celle state stud, in Handorf, which was the forerunner of the Roydorf station of today. He remained in Handorf until 1949, where he merely left the granddam of the sought-after Duden I son Dirigent (Warendorf state stallion) as a permanent relict.
In the immediate post-war years, this lightly built true to type Trakehner did not have it easy. Agricultural horses were in demand and they were not his forte. His big moment came in Jork in the Alte Land, at a studfarm that no longer exists today. At this new location Abglanz had bulls eyes in series. Mated with the Aktionär I daughter Ankerhirtin, he sired the triology of brothers Abhang I, II and III as well as their full-sister Zukunft who celebrated international successes with Alwin Schockemöhle. All four siblings were very variable: The 1.60 metre sized Abhang I was a prime upgrader of type in Badbergen, yet only occasionally did his elegant progeny manage the jump into the higher spheres of riding sport. Abhang II at 157 cm stick measure was the smallest of the group. In Hohnstorf, Groß Liedern and its successor station of Hanstedt II, as well as in Frankenburg he produced outstanding dressage horses of great charm, rideability and quality of motions. Abhang III, the tallest of the three brothers sired predominantly showjumpers and even today can still be found in numerous performance bloodlines. The full-sister Zukunft overshadowed them all. She was neither elegant nor charming in her demeanour but she could jump endlessly. The square shaped down to earth Absurd did not have a great impact in breeding, but he had a famous full-sister, Fritz Ligges' Zuckerpuppe. Abglanz's blood has been able to prevail in the paternal line via Absatz, who from Otersen and Roydorf became a prolific disseminator of his sire's genotype. Stallions such as Argentan I, Arsenik, Akzent I and II, Admiral I and II, Aktuell and most certainly also Aderlaß , started a real "Absatz boom."
Today the Argentan I son Argentinus is the most popular sire of this dynasty. Archimedes had already mastered the complete advanced programme. He belonged to the same age class as the approvals winner Akrobat, who in contrast to Archimeds, was a tenacious fellow. His progeny were good jumpers, but were not always easy to handle. The Hechthausen period also produced Aalfänger and the proven Trakehner Kassio. As Abglanz was stationed in Celle all of his life as a sire, his influence on his own population remained limited. The Trakehner studbook only lists nine registered daughters and three sons. Of these three stallions Kassio, Morgenglanz and Valentin, the last two derive from the few months that Abglanz spent in Hunnesrück in the Winter of 1963/1964 before he had to be put down on the 14th of March 1964 because of geriatric infirmities. Note: ES Donavan's Dam, Akelei is by Argentan
Akzent II
Akzent II Absatz x Wega
Before Akzent II came to Ludwig Kathmann's in Oldenburg in 1985, he gained a great reputation in Hanover as a private stallion. In 1988, he was the sire of the most successful Hanoverian dressage horse — Amazonas. In 1989, his son Aczidos was placed fourth in the Federal Championships of riding horses and top priced lot of the Verden sales (DM 130,000). In 1991 Love Story II was Champion mare in Oldenburg along with Adios, Dressage Champion at the Federal Championships in Munich. .Akzent II and St. Pr.St. Love Story (Freiherr) were crosed to produce St.Pr.St. Liberty, Rosall's Dam.
Akzent II was regarded as one of the best producers of rideablity in modern day horse breeding. He is also the dam's sire of stallions, De Niro and Dimension and grandsire of Abanos. His progeny include: Atachi, top priced lot of the Verden sales (DM 210,000) and Alabaster, most expensive young stallion of the Oldenburg approval in 1991. Akzent II was also the sire of several Licensed sons, including Akut, Alonso and Akatschi.
Akzent II is considered to be one of the most accomplished sires of rideability of modern horse breeding and has been the cause of positive news headlines many a time. It is noteworthy that he recommends himself particularly well on the maternal side of pedigrees, as is evident with the highly esteemed hereditary transmitters De Niro, Dimension, Gralshuter, Carismo, Welton, Trend, Pik Labionics, World Man G, tannus Ass and Gracieux, who all derive from Akzent II daughters.
The great grandam State Premium mare Demut together produced outstanding competition sports horses. Akzent II, who had always been versatile in his heredity, began his career as a private stallion and precursor of Calypso II at the Amselhof Walle, respectively also as a leasehold stallion at the Celle state stud, where he sired his first and particularly highly esteemed sons Acapulco, Akut and Alonso before developing into a true sire of champions in Oldenburg.
A number of candidates were a sensation at Federal Championships and Vechta auctions, including the bay Aczidos (DM 130,000, Vechta, autumn 1989) and the Approved chestnut stallion Alabaster (Federal Champion German Dressage Horse in Warendorf in 1994). Now standing at Landgestut Celle.